1460 BOOK OF HOURS OF THE VIRGIN MINI ILLUMINATED MANUSCRIPT BIBLE ROME JESUS $$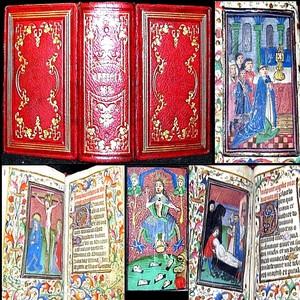 ---
(PICTURES BELOW DESCRIPTION)BOOK OF HOURSHOURS OF THE VIRGIN (USE OF ROME)N.D. Circa 1460-80; Flanders, Belgium; 173 Leaves of 175, Lacking one leaf after f.84/last blank), 346 Pages; Full 19th Century Miniature Leather; Vellum Pages; Latin Text/few in Italian; w2.6"xh3.5", Text w1"xh1.7"; Extremely Rare! ATTRIBUTES:
Beautiful full Miniature Red Morocco leather, Pretty Gold floral boards/binding,
Marble end pages, Illuminated manuscript on vellum, 13 lines in Gothic brown ink,
Rubrics in red, Capitals touched in yellow, One line initial in blue/gold,
2 line initials in gold with red/blue backgrounds,
7 4-line initials with bar borders full height of page,
6 Full page miniatures/floral borders, 6 Large Initials/full borders,
Numerous Illuminated gold initials throughout,
Last few (later) prayers in Italian at the end (2 pages), Nice wide margins,
Original instructions (word or two) to the artist written in Flemish beneath the miniatures,
Brilliant Craftsmanship & Very Rare & Unusual Miniature Size,
Smallest I have ever seen, ONE OF A KIND!
SUMMARY:
Preceded by a Calendar, Hours of the Cross and of the Holy Ghost,
Mass of the Virgin and Gospel Sequences, Followed by Penitential Psalms & Litany,
The Office of the Dead.
The subjects of the Miniatures are:
The Crucifixion, Pentecost, A Priest saying Mass before a group of laity,
The Annunciation, The Last Trump with God in judgement and a mouth of hell,
The Burial of the Dead.           
BACKGROUND:
The book of hours is a Christian devotional book popular in the Middle Ages. It is the most common type of surviving medieval illuminated manuscript. Like every manuscript, each manuscript book of hours is unique in one way or another, but most contain a similar collection of texts, prayers and psalms, often with appropriate decorations, for Christian devotion. Illumination or decoration is minimal in many examples, often restricted to decorated capital letters at the start of psalms and other prayers, but books made for wealthy patrons may be extremely lavish, with full-page miniatures. Books of hours were usually written in Latin.
Despite their strongly religious origin, the books served more as status symbols and fashion accessories than paths to heaven, a fact testified to in the large number of copies that survive in exceptional condition. Most Books of Hours are illuminated manuscripts, beautifully written out by hand on vellum, with ornate initial letters in each section, decorative page borders, and-in the better examples-delicate paintings, which are called miniatures.
CONDITION:
Condition is Good/Very Good.  Some wear to edges, some darkening/soiling to boards in person, Edward Arnold bookplate, removed paper/maybe another bookplate to verso 1st end page/next blank, few written words to verso last end page, Sotheby's sale 12/8/1975, the missing last blank might be one of the Italian prayer pages, not sure, some pages with rubbing/blemishing, blemishing to extreme edges, few trimmed edges of miniatures (most to Jesus/Hell miniature, most pages are very good, hinges/text block are very good!
ASK ANY AND ALL QUESTIONS BEFORE PURCHASING!
IMPORTANT READIf any problems with product, email me and we will work out a solution. Must have payment arrangements within 7 days or will relist item. If purchasing more than one item, hold payment so I can deduct shipping. I like to send off after a week or so. Bubble wrapped and then wrapped in cardboard and mailed in a bubble wrapped envelope in most cases. Will Ship Worldwide. Flat Domestic Shipping Fee of $0.00. Click on Tab for International Rate Above My Title, typically $24.99, Canada $19.99, but depends on size/weight. Additional shipping services/rates can be applied. Tracking Number will be on your invoice details page.  We typically ship daily.  We accept paypal, c.c., m.o. !!Thanks for Viewing!!