1930s HAND EMBROIDERED Buttonhole Stitch BEIGE CUT-OUT LINEN Cushion Cover/DOILY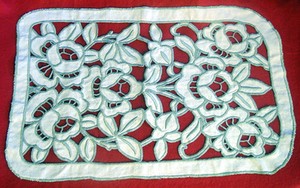 ---
For your consideration:

An Early Vintage Middle-Eastern Artisan-Made Table Runner/Cushion Cover/Topper

 

 

The design & shape is a little hard to describe,

so please be sure to look at the pictures for a better idea 

 

A quick look at the tiny, delicate, embroidery work, would clearly show

the amazing hand-crafted work and time that went into creating this piece!

 

The piece is crafted entirely of fully hand-embroidered top quality, fine French soft and

silky mercerized Cotton (DMC?) thread on closely woven beige-colored pure soft Linen fabric

 

The piece features cut-out work on a Linen cloth, with a floral design that is

outlined in buttonhole stich with and parts of the background cut away from the design

 

It is in EXCELLENT unused VINTAGE CONDITION with no flaws to mention

It is very clean & well-preserved! (It was always kept in a box with an anti-moth soap bar)

 

It measures 16 1/2 x 10 7/8 inches

 

Note:

 

This piece was initially intended as a Cushion top panel cover embellishment Initially, the outer edges were not embroidered as this piece was meant to be sown to the actual cushion case,which (for contrast) should have been of different color and fabric In the 1970s, we commissioned an artisan to finish the outer edges in similar buttonhole stitch,as we wanted to use this lovely piece as a table top runner instead You can notice a difference in the tread used, as well as the workmanshipThe stitches on the edges are not as tight as the original workmanship found in the center

 

Nevertheless, it is a wonderful example of early 20th Century refined craftsmanship!!

A truly wonderful, Unique, Hard-to-Find Collectible Piece of Art!!

 

 

Note:

We are selling many Silver, Jewelry, Crystal, and China Tableware items

as well as other Decorative Collectibles

Each and every article is a truly different Vintage or Antique BEAUTY!